Welcome to GC Middle School
Envision a school where adolescent life transitions happen within a supportive environment under loving guidance. GC Middle School is that school. Here, young teenagers are provided with teachers, coaches and opportunities that foster growth at every level, and equip the student to move from dependence to independence in a healthy environment. While discovering Student Council, creating yeast and baking rolls, indexing Proverbs, reading To Kill a Mockingbird, cleaning windows at the WIN offices, or practicing volleyball serves, our students discover their maturing gifts and leadaership skills in the context of a world that is safe for exploration.

Curriculum is preperatory for high school course work and social life. We encourage students in their deepening love of Christ and their knowledge of His truth. Through solid curriculum, Bible study, art, or daily interaction with teachers, GC students find emotional and spiritual support, as well as intellectual challenge. Early adolescence is a time of transition. Our role is to prepare students to meet the challenges during this significant time of change and learn to soar.
7th Grade
Bible ESV - Christian Schools International (CSI)
Texas History Texas & Texans
Life Science Bob Jones University Press
Math Purposeful Design (ACSI)
English Grammar Warriner's English Grammar & Comp– Harcourt, Brace, Jovanich
Novels "The Pearl"; "Roll of Thunder"; "The Hiding Place"
8th Grade
Bible ESV - Psalms - Malachi
US History I McDougal Littell - American History Beginnings
Earth Science Bob Jones University Press
Pre-Algebra/Algebra I McDougal LIttell
English Grammar Warriner's English Grammar & Comp -Harcourt, Brace, Jovanich
Novels "Across 5 Aprils"; "Tom Sawyer"; "Farenheit 451"
Duke University Talent Identification Program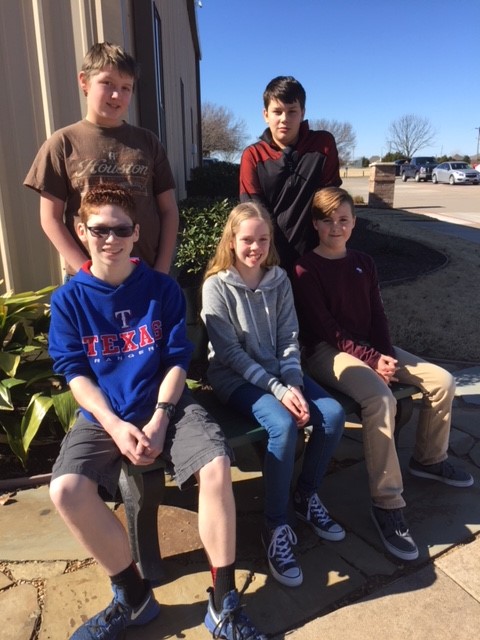 Greenville Christian School's Headmaster Steve Bowers is pleased to announce that five 7th graders qualify to enroll in Duke University 's 7th Grade Talent Identification Program - TIP. Elizabeth Cavett, Jonathon Cummings, Nicholas Gladden, Daniel Pitts and Joseph Yosten qualified through last spring's administration of the TerraNova Third Edition, a grade-level standardized achievement test given at Greenville Christian School. To be recognized, Duke TIP requires students to score at or above the 95th percentile on an accepted subtest or total battery/composite. The different subject areas tested on the TerraNova Third Edition are mathematics, science, language arts, reading, social studies and communication. Once students are identified from the test scores, they are eligible to take either the ACT or SAT as an above-level testing experience. According to TIP executive director, Martha Putallaz, PhD., "Testing above grade level offers families a better understanding of their child's academic potential and provides them with guidance on what to provide in terms of academic enrichment beyond the traditional classroom setting." Additionally, TIP students also have an opportunity to preview the test they will take during their future college admission process. This process also helps educators and families determine how advanced their students' abilities truly are and what level of educational challenge is appropriate. Elizabeth Cavett is the daughter of Sonja and Chris Cavett of Greenville; Jonathon Cummings is the son of Karin Cummings of Greenville; Nicholas Gladden is the son of Rae and Danny Gladden of Greenville; Daniel Pitts is the son of Ivy and Joel Pitts; and Joseph Yosten is the son of Patsy and Michael Yosten also of Greenville.